Switzerland may be the first country in the world to use removable solar power plants, mechanically placed...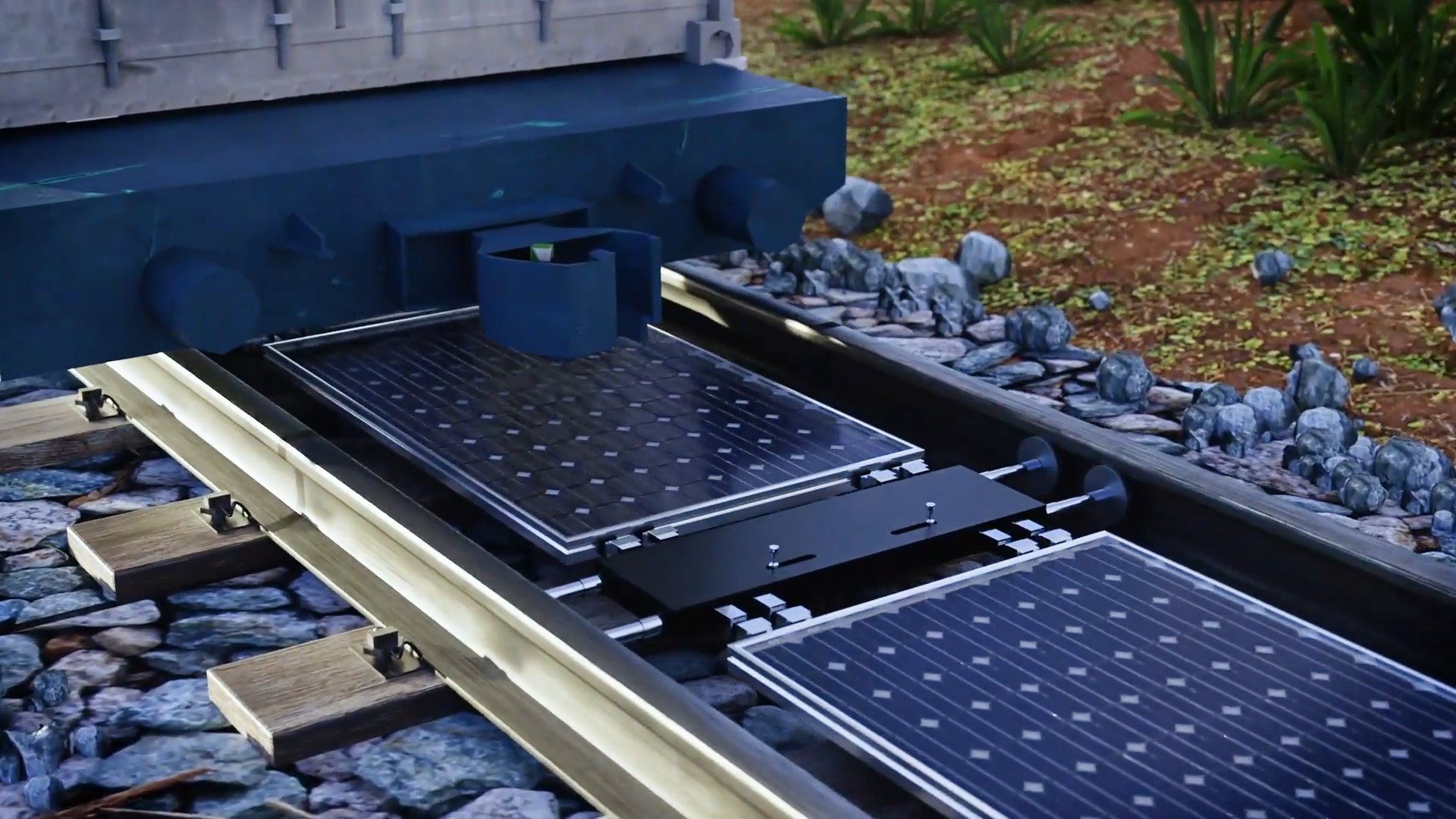 The project is now entering the prototyping phase of the technical elements that make it possible to install photovoltaic panels between the rails. These elements represent the heart of this innovation, as the entire device will be pre-assembled in the workshop and then loaded onto a special train that will drop the solar power plant between the rails, like a carpet being unrolled. Source: Sun-ways.
Installation of the first removable solar power plant on rails.
Switzerland may be the first country in the world to use removable solar power plants, mechanically placed between the rails of railroads, to produce up to 1TWh of solar electricity, i.e., 30% of all current solar production in Switzerland.
Climate crisis, electricity shortage, environmental protection, energy dependency – the media remind us of every day of these challenges that will continue to weigh on our economy, our security, our health and our morale for a long time to come. The patented technology of the Vaud-based start-up Sun-Ways contributes in a simple and quick way to the energy transition towards a massive production of clean and local electricity. This innovation aims to use the "unexploited" space between the two rails of a railroad track to mechanically place removable solar power plants, without disrupting rail traffic and allowing for essential maintenance work.
The exploitation of the 7.000.000 m2 of surface available between the railway tracks in Switzerland offers an exceptional opportunity to accelerate the energy transition in our country; it is the equivalent of 350.000 house roofs equipped with solar panels. This solution also offers other advantages: centralized decision making at the level of the Confederation and the railroad companies, a mechanized installation process with little need for manpower, no visual or environmental impact, and an economically interesting cost per kWh produced, in the order of 10ct (LCOE – levelized cost of energy).
Currently, a dozen companies are participating in the realization of a first pilot project, and the first removable solar power plant on a railroad track should see the light of day in May 2023, on a section of the railroad network of transN, the Neuchâtel public transport company, near the Buttes station. A series of mechanical tests will be carried out to analyze the technical constraints related to rail traffic, and the CSEM (Swiss Center for Electronics and Microtechnology) in Neuchâtel will conduct analyses to evaluate the resistance of the solar panels in this new environment.
10 km of solar track means:
 10.000 m2 of available surface
 5.000 PV modules
a power of 2 MWp
an annual production of 2 GWh (2.000.000 kWh)
the annual consumption of 400 households
an investment of CHF 2.600'000.00
reduction of 10′.000 t of CO2 emissions (over 25 years)
zero impact on the environment and nature
zero nuisance for the population
zero impact on agricultural areas and the landscape