It is possible to install a photovoltaic installation not only on the roof, but across the entire building envelope. This is the view of Francesco...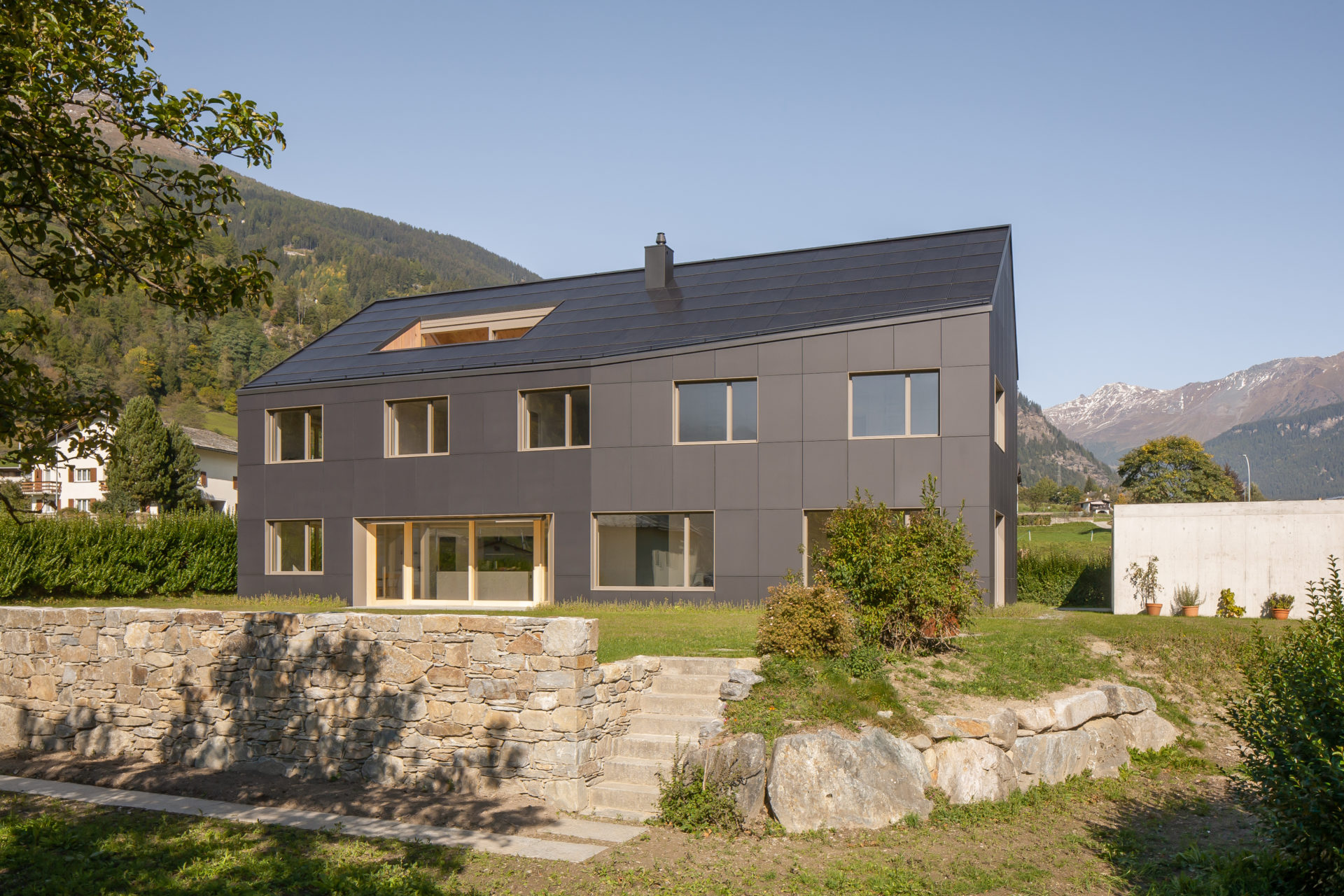 The "Winter Plus Energy" Sol'CH building in Poschiavo (GR) is an award-winning example of integrated photovoltaics. Its entire envelope, including the north facade, consists of photovoltaic modules. Photo: Nadia Vontobel Architekten GmbH.
SwissEnergy – Energy magazine for property owners – October 2022
Making the most of solar potential
Interview: Tobias Fischer, Michela Sormani
SOLAR FACADES It is possible to install a photovoltaic installation not only on the roof, but across the entire building envelope. This is the view of Francesco Frontini and Pierluigi Bonomo of SUPSI, the University of Applied Sciences and Arts of Southern Switzerland. Throughout their interview, they explain the advantages of solar facades and the factors that need to be considered.
When talking about a "house with a photovoltaic array" most people think of a roof installation. Why should one also consider the facade?
Pierluigi Bonomo: There are 1.8 million residential buildings in Switzerland, which account for about 5 per cent of the built-up area. It is important to use these buildings for solar energy production. Until a few years ago, photovoltaic installations on roofs were mostly designed according to individual needs, so they were rather small. Today, those who opt for photovoltaics can exploit the solar potential to the full by using for this purpose all suitable surfaces of the building envelope, including facades. This is because facade modules generate energy even when the sun is lower on the horizon, especially in winter. But also in other seasons, when they can balance the production curve throughout the day with production in the early morning or late afternoon. This new trend is spreading not only in response to the Energy Strategy 2050, but also because electricity is becoming increasingly important, e.g. for electric mobility and heat pumps. Today's photovoltaic technology is extremely flexible and allows for customised solutions for facades, roofs or installations such as carports, balconies or terraces – and thus also a very individual architectural language.
For which houses is a photovoltaic facade application particularly suitable?
Francesco Frontini: This technology is suitable for both new buildings and renovations. In this specific case, must first be analysed the sun exposure. In principle, all four facades can be used, including the northern one. However, given the grey energy contained in a solar module, one wonders whether it really makes sense to install such a module on a less exposed surface. As a matter of fact, a photovoltaic module carries more grey energy than wood cladding or simple plaster. It is therefore important to install photovoltaic modules where they can generate the highest possible solar energy yield with their technical performance. In less sunny areas, coloured glass systems visually very similar to solar modules could provide a harmonious overall appearance.
Is there a minimum size below which a photovoltaic facade installation would not make sense?
Frontini: The smallest installation I saw was a 1 kilowatt installation, for which a parapet is sufficient. Whereas on a roof it is correct to consider an area of at least 15 to 20 square metres to achieve 3 to 5 kilowatts, on a facade the architectural aspect comes first. Therefore, for an area of 10 square metres I would not aim for the minimum size but for the maximum in order to ensure maximum constructive and aesthetic homogeneity.
How can a photovoltaic installation be integrated into the facade without the house looking like a space station?
Frontini: That a photovoltaic element is a classic blue or black square cell is a myth. This is demonstrated by current examples, among others on our own website solarchitecture.ch. Today, a photovoltaic module is a building element (usually made of glass) and is very flexible in terms of customisation, colour, shape and surface effect.
Bonomo: In recent years, a great deal of research has been conducted in this area, which has led to the availability on the market of glass with various surface treatments and colours. Photovoltaic facades can therefore be flexibly adapted to individual aesthetic requirements, whether monochromatic, from dark to white, or decorated, recalling the image of traditional materials, or with a graphic or photographic subject. It is important, on a case-by-case basis, to find the right compromise between aesthetics and the performance of these modules.
Is a photovoltaic facade less durable than a conventional facade?
Frontini: A photovoltaic module is very durable if well designed. However, since it is composed of 99 per cent glass, it is advisable to use the upper floors for photovoltaics and leave the base free, which is usual in architecture as it is more resistant to impacts and dirt. Alternatively, one can opt for photovoltaic modules designed to carry a higher load and certified accordingly. Solar modules are conventional construction products and as such are tested for impact, wind, snow and earthquake resistance.
What is the lifetime of a photovoltaic facade installation?
Frontini: A solar module provides energy for 25 to 30 years, and this is guaranteed. At the end of this period, it will have lost a maximum of 15 to 20 per cent of its yield, and at the same time, new, more efficient modules will be available on the market. Therefore, it would be sensible to currently choose a dismountable and flexible system. On the one hand, the module can be easily replaced in the event of vandalism, and on the other hand, it can be replaced at a later date with a more efficient module. However, this is not required, as a module can last up to 40 to 50 years if the glass does not break.
Bonomo: Sustainability does not mean that products have to last forever, as was thought for cathedrals. If I use a 'light' element, which has a low grey energy and can be recycled or otherwise reused in a circular manner at the end of its service life, the replacement is sustainable even with a shorter service life if this aspect is considered in the environmental/economic sustainability concept of the entire building. In addition, the recycling potential of a photovoltaic glass module is well known
If someone wants to renovate the facade and also insulate it, how can a photovoltaic installation be integrated?
Frontini: The simplest and most effective way is to build a ventilated facade, where the insulation is attached to the existing wall in addition to a structure to which the photovoltaic modules are secured. On solarchitecture.ch the technical details of each element are available and the optimal solution for each type of building is provided.
Do you have any advice for property owners or developers interested in solar facades?
Bonomo: Photovoltaics does not set limits, but offers possibilities, potential and limits like all technologies in architecture. If I want to use my roof as a green roof, I know that I can use the facades for photovoltaics, and these will not be technical devices but will have their own architectural language. Another tip is to consider the cost-effectiveness not only at the time of the investment but over the entire life cycle of the photovoltaic installation. The additional costs of acquiring a photovoltaic facade, where noticeable compared to a conventional one, are usually amortised over the life cycle of the system as photovoltaics is today the only remunerative cladding material for buildings.
Full pubblication (DE)