The building sector in Europe is the single largest energy consumer, representing approximately 40% of...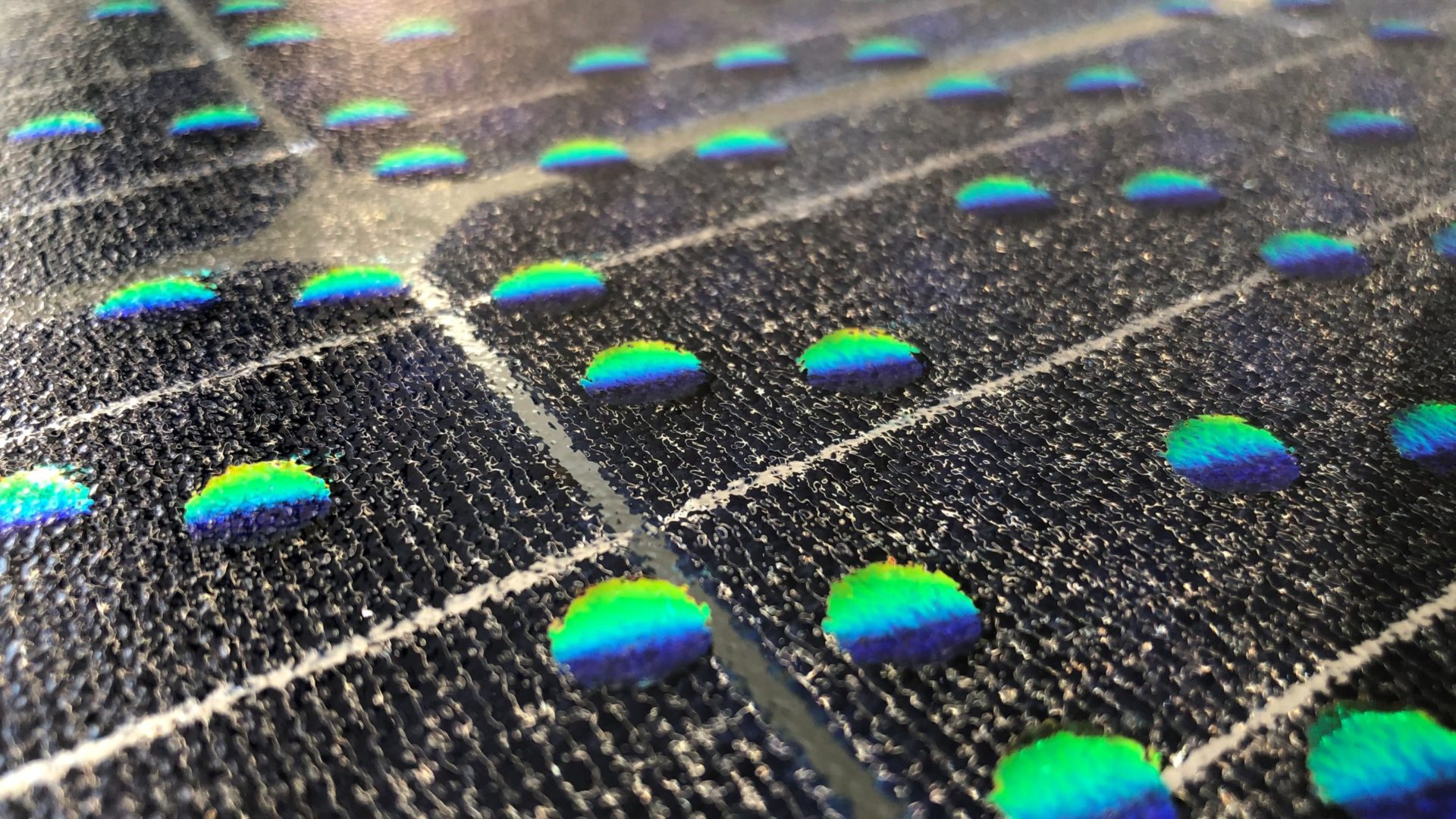 PV module assembled with black crystalline cells and SEEN elements: blue-green colour-shifting dots. Credits: SEEN AG.
Sustainable buildings
The building sector in Europe is the single largest energy consumer, representing approximately 40% of EU energy consumption and 36% of the greenhouse gas emissions. It is therefore, a vital force impacting the European Union's energy and environmental goals set in the legal framework of energy transition.
The European Commission issued several directives (Energy Performance of Buildings Directive 2010/31/EU, Energy Efficiency Directive 2012/27/EU and Directive amending the Energy Performance of Buildings Directive 2018/844/EU) aimed at improving the energy performance of buildings while accelerating the building renovation rate towards more energy-efficient systems.
These directives, having resulted in new rules/laws in national building codes of the EU member states, require that from 2021 any new (or subjected to major refurbishment) building must be a nearly zero-energy building (NZEB). A NZEB building is a building with very high energy performance, only requiring a significantly low amount of energy, should be extensively covered by renewable sources produced on-site or nearby.
Compliance with current regulations implies that buildings are designed with sustainability concerns to become producers rather than consumers of energy.
NZEB and BIPV
The integration of photovoltaic elements in the building envelope as part of the roof and/or the facade in replacement of conventional construction materials can contribute decisively toward reaching the goal of truly sustainable building design. This is known as building-integrated photovoltaic (BIPV) solutions.
By simultaneously improving the building envelopes' energy-savings and increasing the local generation of renewable energy, BIPV can significantly help reach NZEB objectives and obtain environmental certifications and labels such as HQE, BREEAM, LEED and Minergie.
The city of Vienna has also recently submitted for evaluation new building regulations to require the installation of PV systems on all new buildings, including residential ones (Die Presse, 04/27/2020).
Roof surfaces are the preferred area for installing PV elements due to their advantageous irradiation values. However, when it comes to office buildings or residential high-rise buildings, PV rooftops alone are not enough to achieve NZEB objectives.
In this case, the available roof area (often reduced by the presence of technical facilities) is indeed too small to allow the implementation of the required PV installation – a large part of which must be redirected to the facade.
BIPV facade
The facade is a strong element of the building's architecture. As the first visual contact, the facade and its constitutive elements build its distinctive appearance and identity.
For many years, the unsatisfactory visual aesthetic qualities of PV modules, affecting the building's overall appearance and the limited format freedom, have long been an obstacle to their use as facade elements.
The last ten years have seen the emergence of a whole range of customizable products in terms of dimensions, shapes, cells arrangement opacity, and functionalities (waterproofing, thermal insulation, etc.). This allows PV elements to become applicable to almost the entire building envelope (cladding, curtain walls, skylights, windows, solar control systems, or other facade components such as balustrades).
On the aesthetic side, the current trend is towards developing products that facilitate the camouflaging of the active parts of the PV modules (PV cells, contacts, etc.).
Colours, structures, sets of textures, surface finishes, patterns, are all design elements that drastically increase the acceptance of PV modules as integrated elements of the building's envelope and make it possible to give every solar façade its own distinctive character.
SEEN Elements
SEEN AG offers new innovative solutions allowing the design of photovoltaic modules with maximum creative freedom, giving the facade a living three-dimensional appearance that changes depending on the daylight.
The technology is based on metallized elements, freely selectable in materiality, shape, and size. It is directly arranged according to fully customizable patterns on the lamination foil used for PV module assembly.
Manufactured from aluminium, semi-reflective aluminium, titanium, titanium nitride or the two colour-shift red-yellow and blue-green, SEEN elements are characterized by high reflection levels that conceal the visually less attractive photovoltaic cells without significant loss of performance.
SEEN elements are applicable to any type of PV module (crystalline or thin-film) of any size and shape, without modifying the PV manufacturers supply chain or conventional production methods, thus facilitating their integration into BIPV projects.