The city of Zurich aims to produce four times as much solar power by 2030, and five times as much on municipal buildings. With a...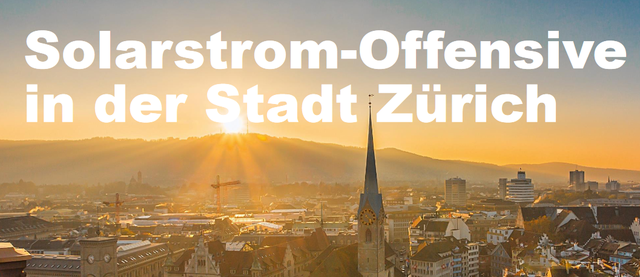 Solar power offensive in the city of Zurich. Credits: Stadt Zürich.
By Silvia Banfi Frost (Energiebeauftragte der Stadt Zürich) and Thöme Jeiziner (ewz)
The city of Zurich aims to produce four times as much solar power by 2030, and five times as much on municipal buildings. With a photovoltaic strategy, the city council is redefining the measures to achieve maximum use of roof surfaces by greatly accelerating the expansion of photovoltaic installations. The increased use of renewable energy serves to achieve the climate goal of zero net emissions by 2040.
The net-zero 2040 climate target is associated with strong electrification in heat supply and mobility. To ensure that the additional electricity demand can be met with renewable energies, the city of Zurich wants to greatly accelerate the expansion of solar power production. By 2030, the production of solar electricity on city territory is to be quadrupled to a production of around 120 gigawatt hours (GWh) per year. In the case of municipal properties, production is to be increased fivefold to 20 GWh per year. With the photovoltaic strategy, the city council defines the goals and measures for this expansion. For example, economical photovoltaic (PV) systems are to be standard in the future for new municipal buildings and roof renovations. The city council also wants to cover at least ten percent of its own electricity needs with renewable solar energy by 2030.
Producing solar energy – also possible on listed buildings
Many public buildings within the city are protected or inventoried. In order for this expansion to be achieved in buildings owned by the city of Zurich, well-suited buildings from the Federal Inventory of Heritage Sites of national importance (ISOS) must also be considered as suitable for PV systems. One fifth of the city's buildings fall into this category.
Following a thorough process, the Office of Urban Planning has reviewed all school and sports facilities included in the ISOS-A list and defined which are suitable to be used for a PV installation.
Taking the pulse of technical development
In addition to conventional PV installations mounted on roofs, ewz tested the use of coloured PV modules integrated into roof tiles. However, their performance is still insufficient compared to conventional installations. ewz is actively pursuing further technical developments, such as PV applications on building facades. As one component of the city PV strategy, such installations are to be implemented in a targeted manner.
Inner-city cooperation as a success factor
As a competence centre, ewz is in charge of the implementation of PV installations on public buildings. Planning and consulting, implementation, operation and financing of the systems, as well as billing of the electricity supply, are all provided from a single source. This year, together with Immobilien Stadt Zürich, six PV installations on school buildings were built and sold within a very short time as part of ewz.solarzüri. Moreover, in order to meet the great demand from the public, 2700 square metres are available as of today in a citizen participation model on the municipal housing estate Glaubten of Liegenschaften Stadt Zürich.
Photovoltaic solutions for private homeowners
In order to achieve the target of 120 GWh per year by 2030 on buildings in the city area, the promotion of PV installations is to be expanded via 2000-watt contributions. ewz also offers private individuals comprehensive services for photovoltaic solutions. These include advice, planning and construction of PV plants and billing models for the establishment of self-consumption associations (ZEV).
With the adoption of this PV strategy, the City Council is proposing to the Municipal Council that two parliamentary motions on the expansion of PV systems should be written off as settled.