With over 1,200 photovoltaic (PV) modules, ewz is building the first PV installation in the alpine region on...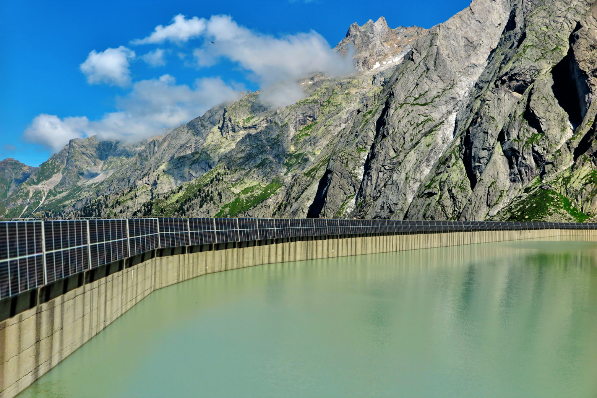 Over 1,200 PV modules will be mounted on the south side of the 600-meter-long EWZ Albigna dam (Photomontage: EWZ).
With over 1,200 photovoltaic (PV) modules, EWZ is building the first PV installation in the alpine region on the Albigna dam in Bergell, at an altitude of around 2,100 metres above sea level. In May 2018, a pilot project was launched with a few PV modules. The results have been positive and the energy production is higher than expected. The dam will now be equipped with PV modules on the south facing water side. With this project, EWZ is actively contributing to the energy revolution and to environmental and climate protection.
With over 1,200 PV modules and a total output of 410 KWp (kilowatt peak), around 500 MWh of renewable energy can be produced per year. This corresponds to the annual electricity requirements of approximately 210 households in Zurich*. When compared to installations in the Swiss Plateau, alpine PV systems offer better yield values. The reason for this is the more intense solar radiation at these altitudes and the reflective snow cover. In addition, the efficiency of PV systems increases with lower temperatures and consequently lower module temperatures. Around half of the electricity produced by this PV facility will be generated in winter. The system thus contributes to security of supply in winter.
Construction start in summer
"I am very proud that the idea and the realisation of this pilot installation came from our Bergell employees. This project once again demonstrates the innovative strength of EWZ and actively contributes to environmental and climate protection." says EWZ Director ad interim Benedikt Loepfe. On the 7th of April 2020, the Grisons municipality of Bregaglia approved this pilot photovoltaic installation. Construction is scheduled to start in July 2020.
Harness synergies
Various synergies can be exploited in the construction and operation of the site. The grid connection at the Albigna dam is already in place. Most of the installation activities will be carried out by EWZ employees from the Bergell site who have already worked on the pilot project. The year-round availability of our own personnel also simplifies any maintenance work.
*Average annual consumption of Zurich households: About 2'400 kilowatt hours per year