The new campus of Franklin University is characterized by two distinct architectonic blocks, with...

Architect Flaviano Capriotti
"We designed a dynamic photovoltaic skin to shade and produce energy."
The new campus of Franklin University is characterized by two distinct architectonic blocks, with one being a communal and educational space and one designed for university accommodation. The architecture intended for the public spaces is highly innovative. It is cladded with a dynamic system of white photovoltaic louvres and it features one of Europe's first vertical photovoltaic louvres that follow the sun's orientation. This mechanism makes the building more sustainable from an environmental point of view and simultaneously guarantees energy generation and shading within the spaces for greater thermal and visual comfort.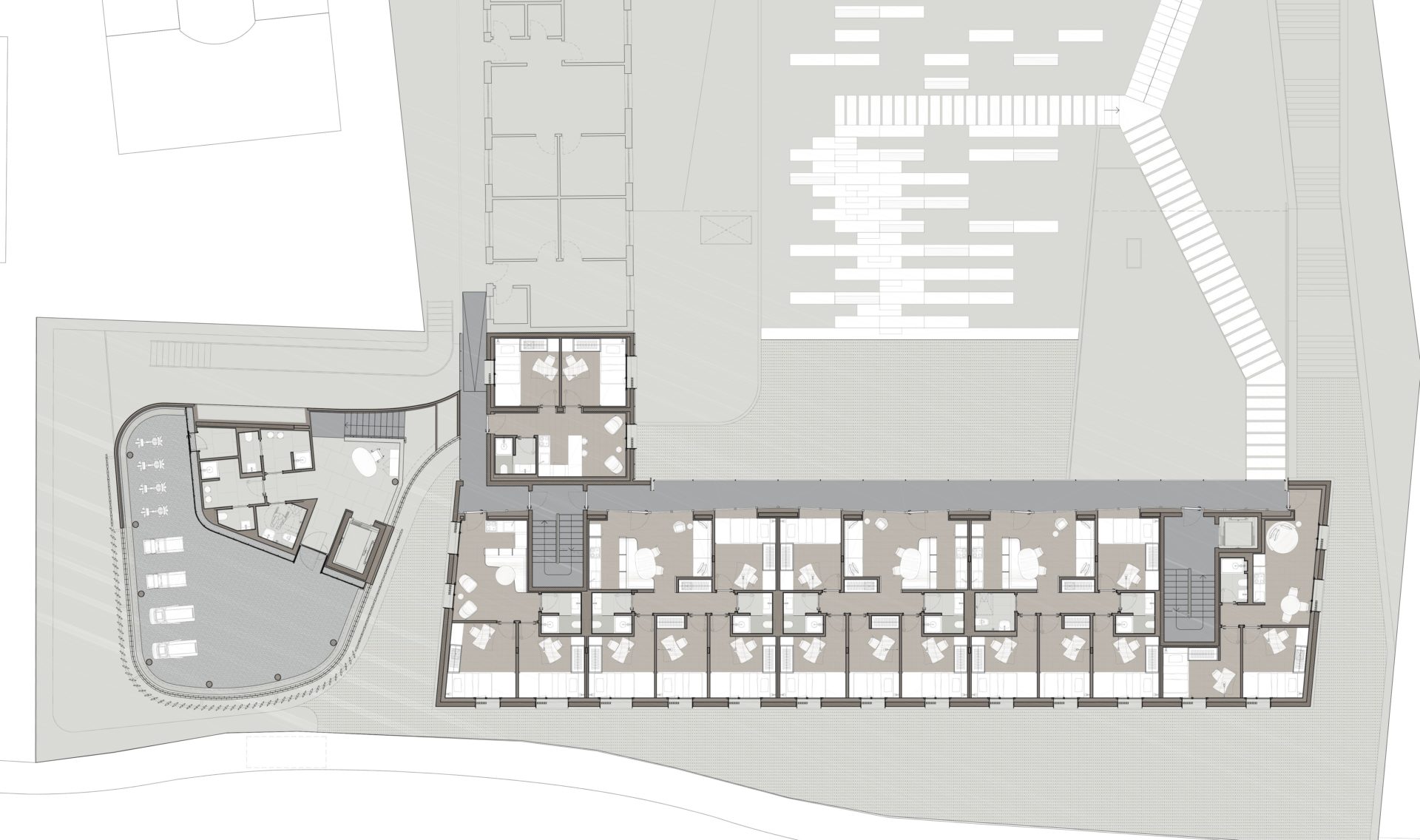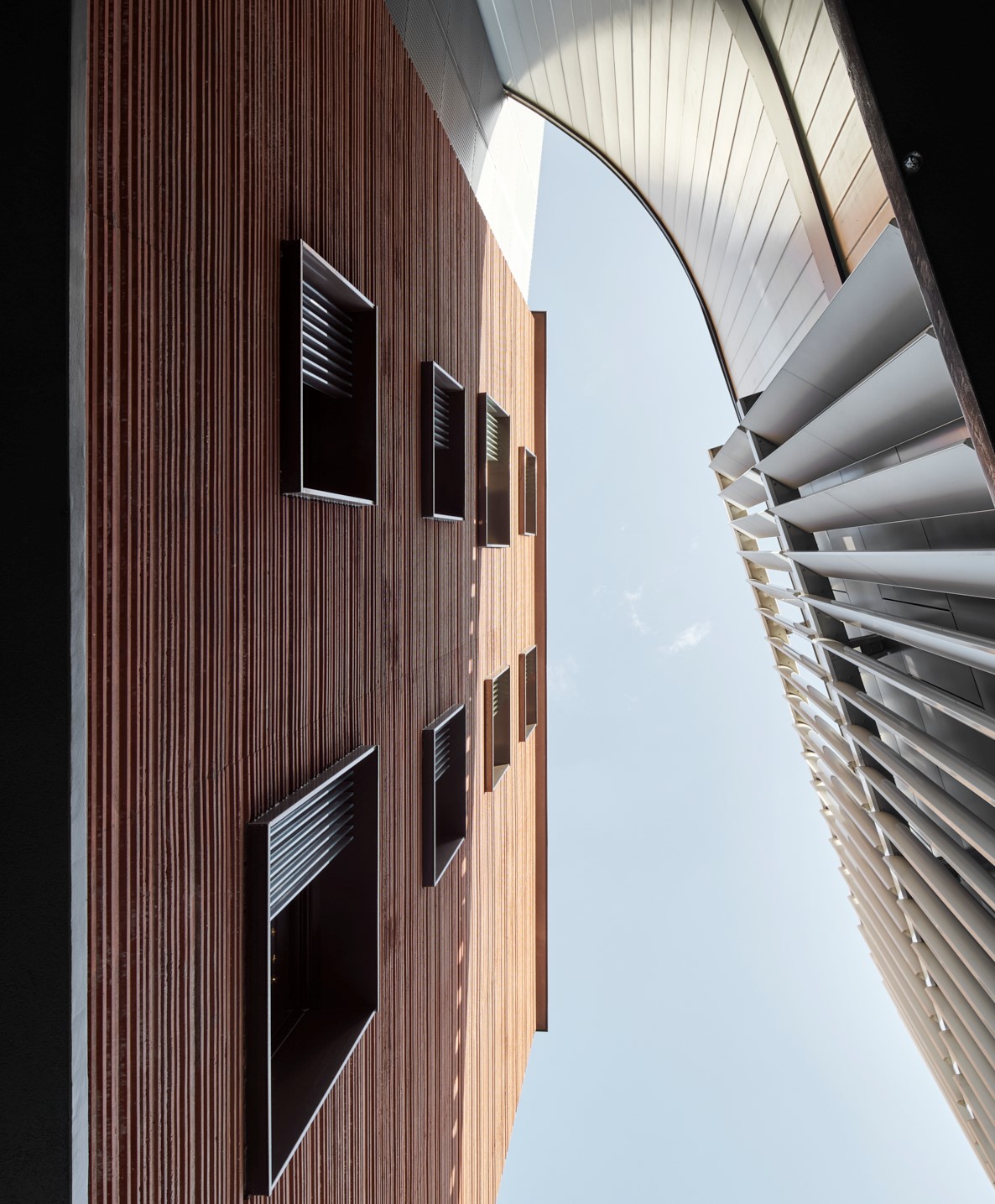 The highly innovative facade is based on the requirement to shade the glass volume in summer (to guarantee low energy consumption and prevent the building overheating) and on the other hand to allow the sun to warm the building in winter.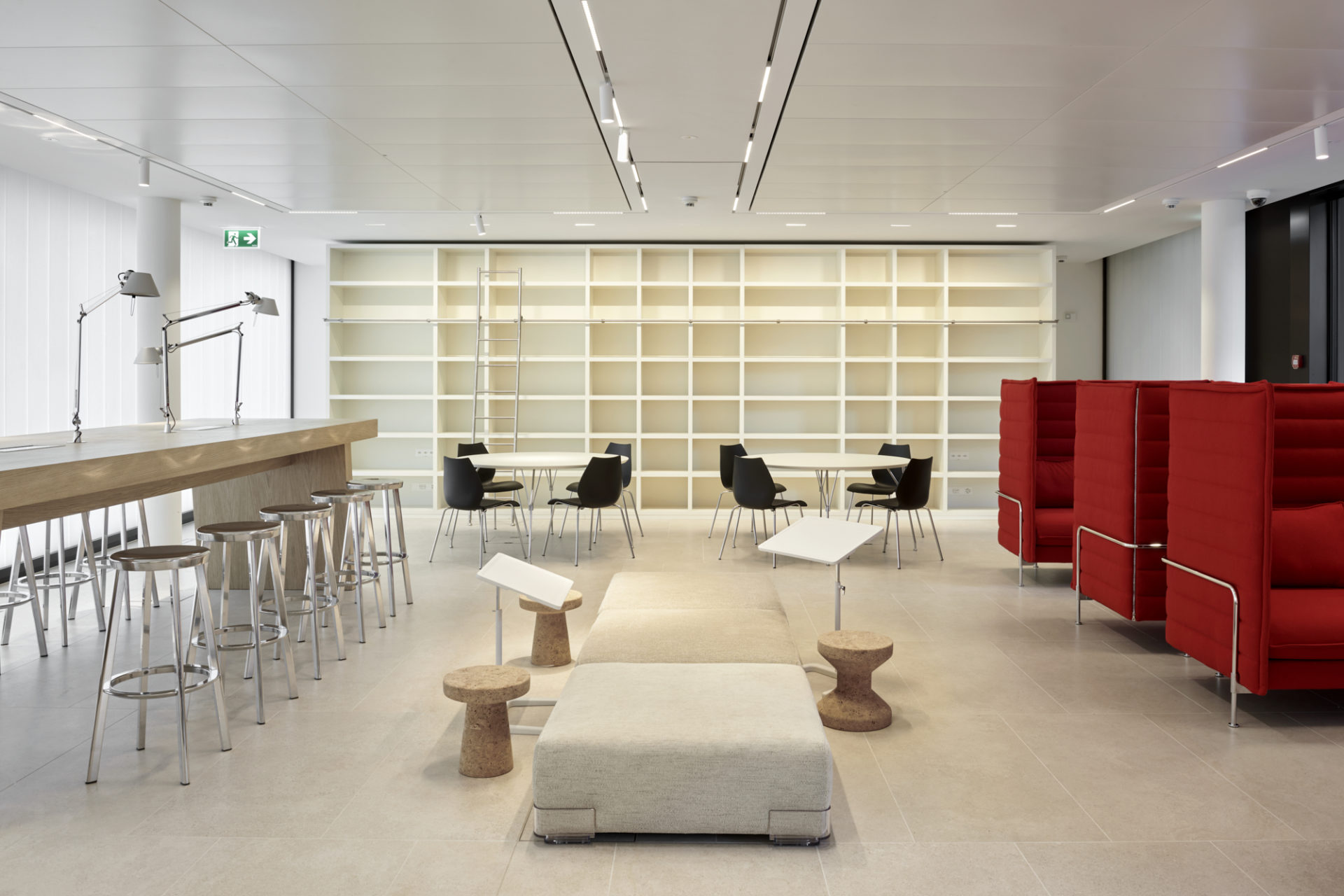 The external louvres allow optimal management of the natural lighting of the interior spaces.
| | | |
| --- | --- | --- |
| | | |
| Active solar surface | – | 183 m² |
| Active solar surface ratio | – | – |
| Peak power | – | 18 kWp |
| Building skin application | – | Accessories |
| | | |
| --- | --- | --- |
| | | |
| Storage | None | – |
kWh
Source: energy production simulation
The BIPV system is installed on the new auditorium's facade on the complex's west side.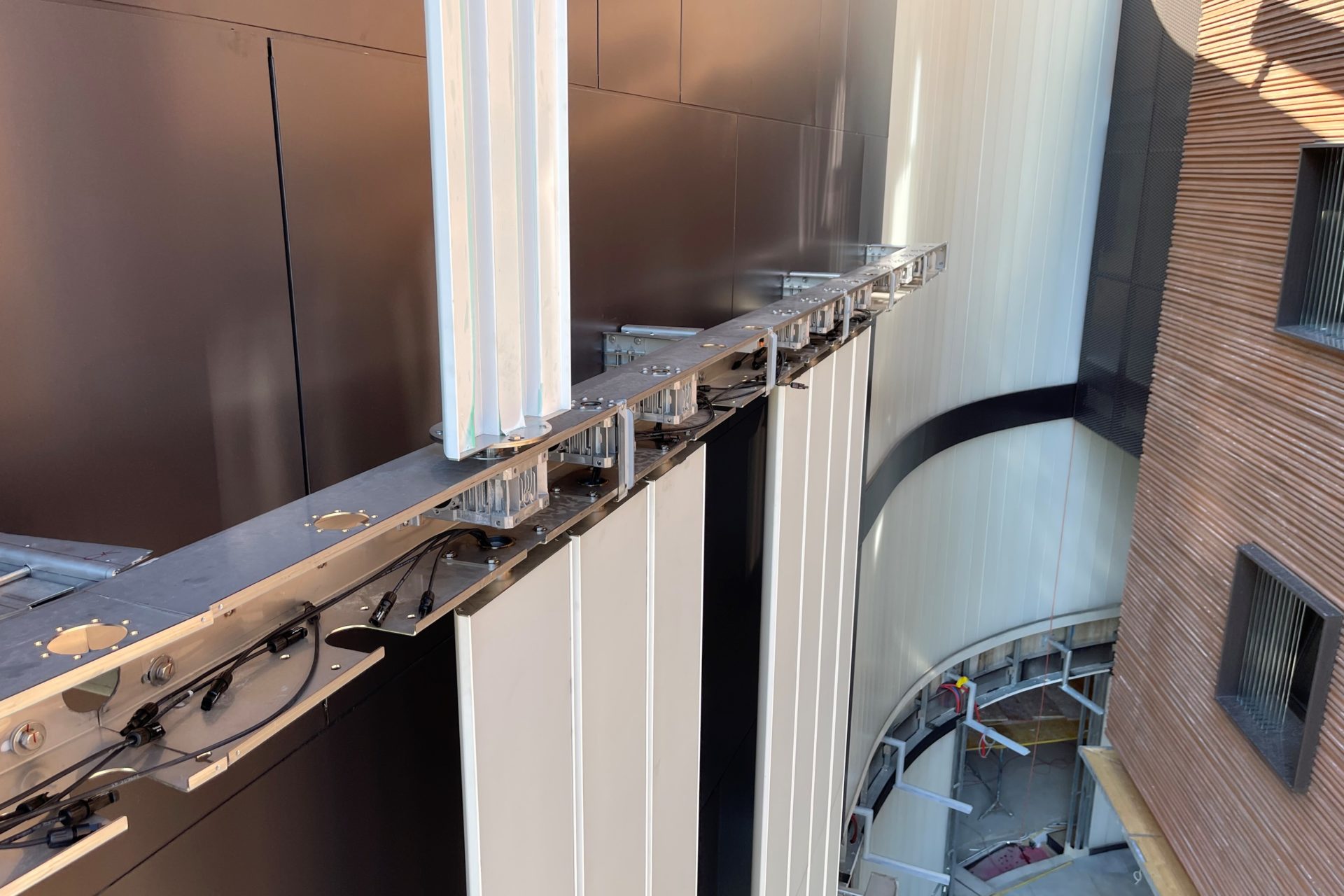 The photovotlaic louvres are fixed on metal struts.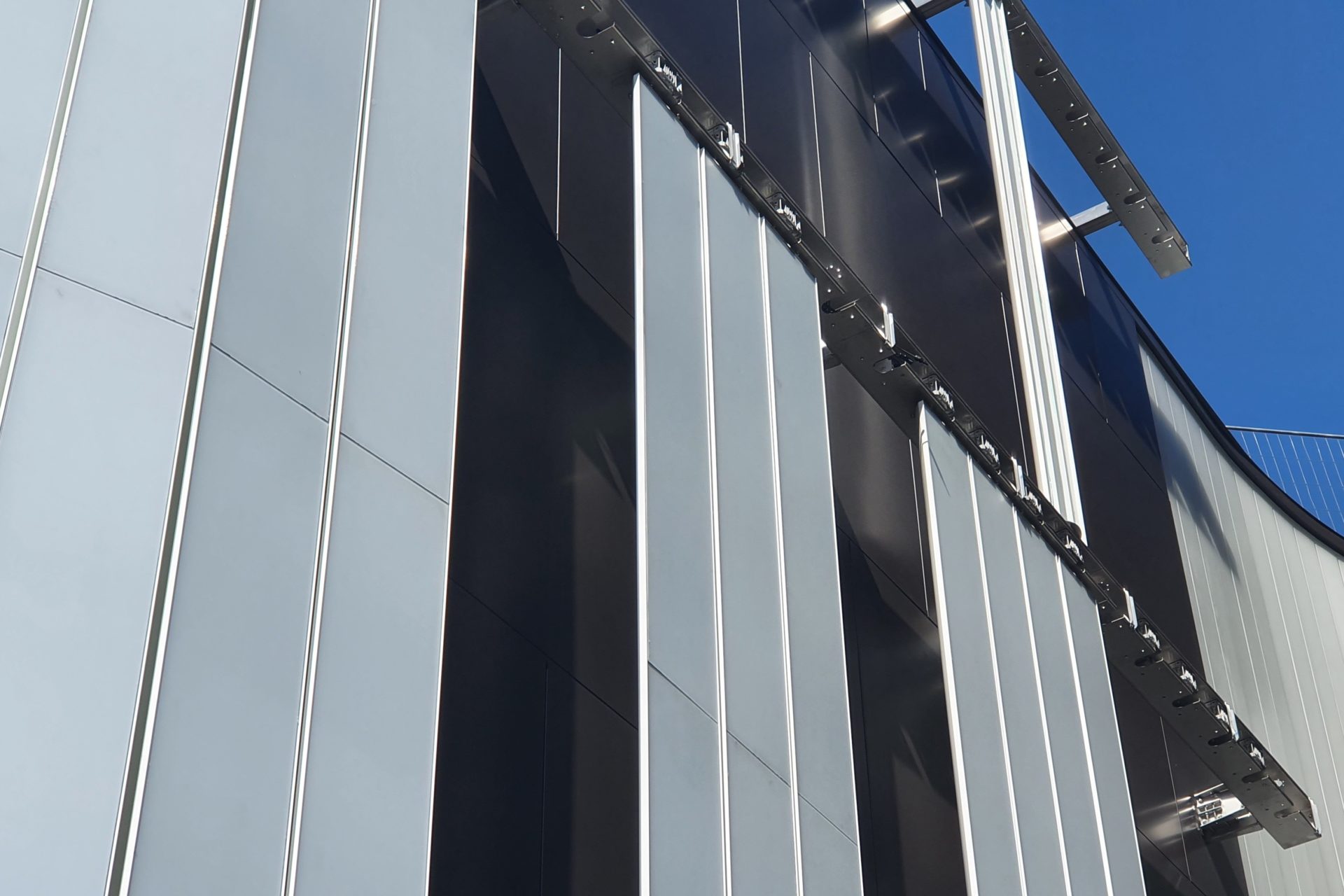 Close-up of the PV facade.
The dynamic photovoltaic louvres have been engineered and manufactured for this specific project. The PV technology is multi crystalline. The tempered 4 mm front glass is float satin and  treated with a uniform layer of Suncol "Bianco Traffico" (white). The PV laminated glass slate has a specific power of 100 Wp/m² and about 18 kWp have been installed.
The PV slats are fastened to a metal substructure and are controlled by a motor. According to an algorithm, they will follow the sun's orientation optimizing energy production and indoor comfort. Moreover the PV modules were optimized to increase their shading tolerance, in particular to avoid the slats' self-shading mismatching with the PV modules. The internal circuit of each PV louvre has been subdivided vertically into two "electrically independent " columns. Thanks to this particular implementation the energetic yield of the PV module, in comparison with standard non optimized PV solutions, is expected to increase by 20%.
Rear facade adjacent to the new exterior spaces.